Tallinn School of Calligraphy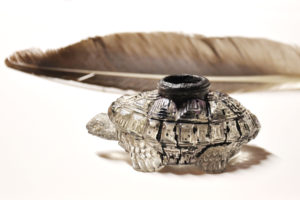 The Tallinn School of Calligraphy was founded in 2005 by Anatoli Ljutjuk, the head of the Ukrainian Cultural Center, with the goal of keeping the art of writing by hand alive. The inspiration for establishing a calligraphy school came from a little inkwell in the shape of a tortoise, which had been his companion from his very childhood. Now the tortoise sits in a place of honour in our collection of inkwells.
A unique calligraphy class, Scriptorium, was founded in the Ukrainian Cultural Center, a medieval complex in Old Town. Twelve places are equipped with handmade desks and special lamps for calligraphy writing. An integral part of Scriptorium is Librarium – a library with a unique collection of books and materials about calligraphy.
Heino Kivihall, a well-known Estonian calligraphy master and student of the renowned Villu Toots, was invited to teach in our school. He gave his first lesson in September 2005. The school was attended by hobbyists of various ages, professions and nationalities. Throughout the years more and more people wanted to learn calligraphy and become a part of the community. Tatiana Iakovelva graduated from the three-year course of Heino Kivihall, passed special preparation for teachers in the School of Calligraphy Ot Aza do Izitsy in St. Petersburg in addition to her previous six years of studies of art in the State Academy of Art in St. Petersburg. She has been teaching at the school ever since.
Tallinn School of Calligraphy was registered as an official school in 2014 with Tatiana as its head; it offers three-year curricula in Cyrillic and Latin Calligraphy, and a special course for children. Ars Littera, an international calligraphy exhibition, is organised at the end of every school year simultaneously in Tallinn and St. Petersburg. Teachers and students from the Tallinn School of Calligraphy and Saint Petersburg calligraphy centre Ot Aza do Izitsy are welcome to exhibit their artwork here.
Monday to Saturday, October to May, groups of talented students gather in Scriptorium to study calligraphy. Hiding away from the cold and gloomy weather outside, they sit in our cozy Scriptorium for 1,5 hour, concentrating on the smooth motions of their hands and the soft scratching of calligraphy pens. Our cat, Džambur, oversees their efforts while gently purring in his basket in the middle of piles of paper, ink and pens. You are welcome to join, whether you are a beginner or advanced!
We offer year-long courses as well as one-time workshops for groups. Several times a year, Tatiana organises open workshops to which you can sign up individually. Please check out our workshop page or contact us at kirjakool@gmail.com.