EA Johnson is in town, meeting with  Labora's makers. 
You can see what else he has been up to at flatfish.ee.
Welcome to our new series and enjoy his first interview with Hannah Harkes.
Read the first part of the interview with Hannah here.
You often collaborate with others – for example, with Estonian artist Mari Prekup. How do you go about choosing your partners in art?
With most collaborations, it happens so organically that it's hard to isolate any moment of choosing. Mari and I have shared a studio at Grafodroom for four years and I guess it all started in the print workshop when we discovered that we used different techniques when printmaking, as taught by our different art schools. What started as a comparison of technique, went through arguments about technique, and on to a desire to learn from each other. We quite naturally began to ask for each other's advice, then to physically help each other even when cutting individual linocut works and then there we were, in our studio, regularly collaborating in a very direct manner. The ideas for more public collaboration with Mari have tended to come out from simply spending time together and talking about printmaking or about this or that topic.
There have been occasions when I've used more intention in starting a collaboration. I approached choreographer, dancer, and artist Kaspar Aus with the idea I had for a dance workshop, which became Dance Black Moon (2014, at Ptarmigan). At that time, I didn't know Kaspar well at all, but I knew he knew something about dance, something that I didn't know, that would help make the idea work. Since then, we've become very close friends and regular collaborators, having performed many times together in our band adhesion.
The current collaboration I'm working on, with sound and visual artist Villem Jahu, is a cassette tape release which you will hear more about very soon in an upcoming Labora newsletter, as it's got letterpress running right through its sounds and its visuals. Villem is working on the sound, I'm designing and printing the cover.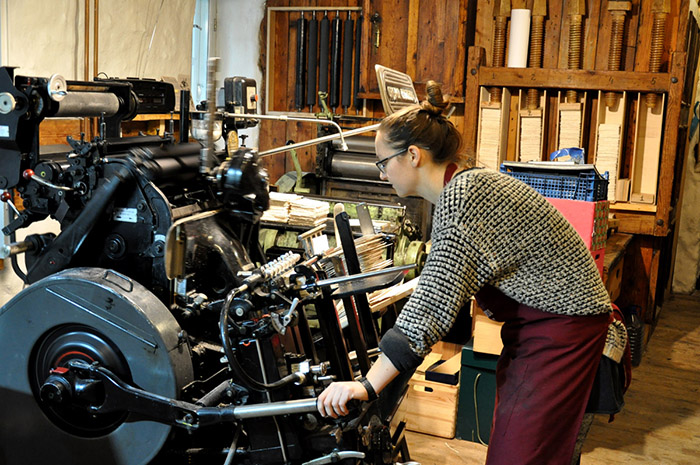 You've been an essential member of the Labora creative collective since you joined in 2014. How did that come about? How do you see your role within Labora?
Before joining Labora, I was working as a freelancer to pay my bills, mostly on the computer, doing website work and design, when up popped a shared link on a friend's Facebook post – position available: looking for a printmaker who especially knows relief printing. I immediately went about writing my application! Soon after, I made my first visit the fantastic world of Labora and was thrilled to be invited to join, just as I continue to be thrilled on a regular basis when I'm reminded how wonderful my workplace and colleagues are.
The simple description of my role is that I do all the printing in Labora, including processing the photopolymer plates, making-ready, mixing the inks, printing and die-cutting .… Part of this also includes discussing the more technical details with clients and advising them on their design from a practical side, demonstrating the printing process to a group on a tour, or leading a workshop in print.
Whilst it's easy to define my role as the printer, an important aspect about Labora is that we really are a team and we sometimes will drop our own roles to help with another's, or to achieve something together that requires all of us at once. When discussing things like where to move forward and which Labora projects to prioritise, we really do work these things out collectively, making sure that Labora continues to be a place where we all love to work.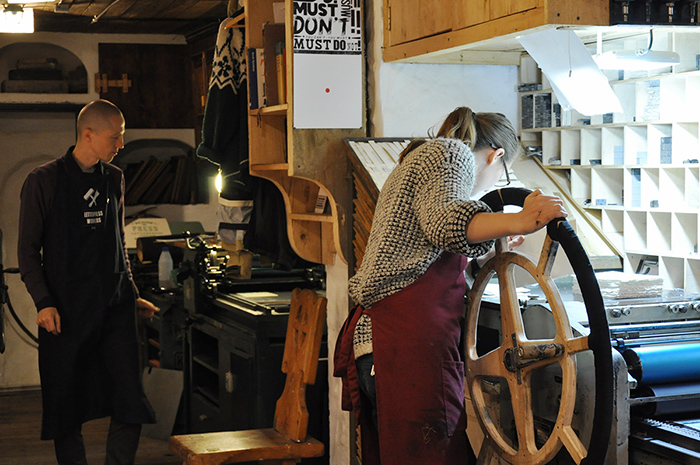 Hannah and Nestor printing at Labora workshop
OK – last question:  Art vs. Craft? On your website you list Labora as the place where you work. And as Labora's Master Printer you practice a very exacting craft. And yet, your success at your chosen craft seems inextricably linked to your art. So where does Hannah the Artist end and Hannah the Craftsperson begin? Or how does your craft inform your art or your art inform your craft? Or where does the border between the two lie – or is there one at all?
This is a question which I've been recently thinking about in a slightly different form, since printmaker and designer Chris Wilson (of Blackdog Letterpress, in Newcastle, UK) asked me to take part in his PhD research into post-digital letterpress. He's investigating people who are active in letterpress today and one of his main lines of enquiry is how such people identify themselves – as printers? Designers? Craftspeople? Artists? He has so far found that those working with letterpress are very often a combination of many, naming their profession with a list, though perhaps arranging their lists in different orders depending on the person and the context.
Each person may draw different lines between art and craft. When making the distinction, for me, it's all about whether I'm intellectually invested in a work, in the creation of its conceptual content. I'm a printer or craftsperson when I'm carrying out the work of another author to the best of my technical abilities. I'm an artist when I'm the author of a work (which I then try to carry out to the best of my technical abilities …). That said, the art and the craft feed into each other, of course; I learned my craft by making art, and when I'm making art, my craft often gives me solutions.
To keep up with Hannah's latest printed creations, please subscribe to Labora's newsletter or follow us on Facebook and Instagram. To see what Hannah has been getting up to on her own or with her other friends, please visit her website to keep up to date.