EA Johnson is in town, meeting with  Labora's makers. 
You can see what else he has been up to at flatfish.ee.
Enjoy his interview with Agnes Liiv about her ceramics and her Kalamaja garden which inspires her.
Agnes explains Estonia's burdock and nettles:
Looking back to my grandmother's garden, I remember how much I had to fight, scythe in one hand, and whetstone in the other, so these two plants wouldn't conquer the whole area.
Why do they come near humans so aggressively and with such great determination? Do they have something to say? Could it be that we actually need them? Maybe they can even help us? We should take a deeper look at the amazing healing properties these plants have. Even if these days we don't need to uproot them to cure arthritis, hepatitis, liver problems and more, they might still remind us of the power of nature. The solutions to our hardest problems could be right nearby – we need only open our eyes and ears.
For me, these two plants perfectly describe Estonians, a combination of grit and power. As we moved from our villages and farms to become the urban creatures we are now, nettles and burdock followed us, carrying with them limitless power and the energy to move asphalt and break through even the strongest concrete. They adapt to the very toughest conditions.
These are the reasons why my ceramics are inspired by these two plants.
Every spring, I pick the first fresh leaves from my home garden in Kalamaja and then press them into clay, so that their might – and my contact with nature – will be the most direct. I like it when simplicity is startling. You will find imprints of burdock and nettles in all my jewelry and dishes.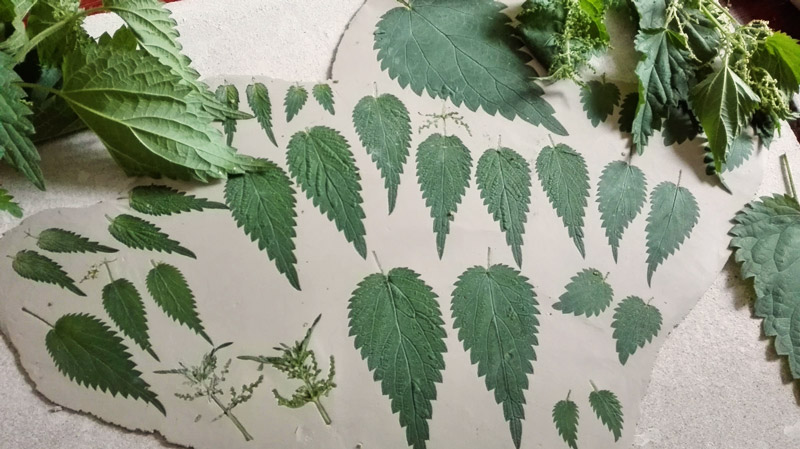 While I won't tell you how to find Agnes' garden, I can tell you how to get to Kalamaja from Labora's Old Town workshops. First, look for the giant hole knocked through Tallinn's mighty walls at Suurtüki in the 19th century to make way for horse-drawn carts and carriages and then head in the Estonian direction known as loe (north west) for a couple of blocks past the park and across the tram tracks until you end up in the lovely residential neighbourhood known as Kalamaja.
When Lonely Planet chose Tallinn as 2018's best value travel destination, they even went so far as to name check Kalamaja – or Fish House – for two reasons: its lovely wooden houses which make it feel like a small, self-contained Estonian fishing village plus the fact that it is home to many of Tallinn's creatives. Not only has Agnes called Kalamaja home for much longer than Tallinn's tourism office has been marketing the neighbourhood as trendy and bohemian, she has been inspiring Kalamaja's next generation of creatives for years through Maru Karu – her craft school for kids.
Although Agnes' last name means "sand" when translated into English, she chooses to work in clay. Her ceramic plates and bowls are in lovely shapes reminiscent of leaves. When I first ran across them during Kalamaja Days, they reminded me of fossils – like those million-year-old fish bones or plants stems preserved in clay and turned to stone for all eternity. As it happens, while I was working on this piece with Agnes, the BBC ran a humorous story called "How can I become a fossil?" which opened with the startling fact that only 1/10th of 1% of all species that have ever lived become fossils. Through her starkly beautiful jewelry and ceramics, Agnes has been busy building Kalamaja's future fossil record. She is making sure that Estonia's nettles and burdock will beat the odds and last forever.
So, if you happen to make it to Kalamaja this spring on your Lonely Planet world tour, then make sure you search for our ubiquitous burdock and nettle. Somehow, I get the feeling that they'll still be around long after we're all gone …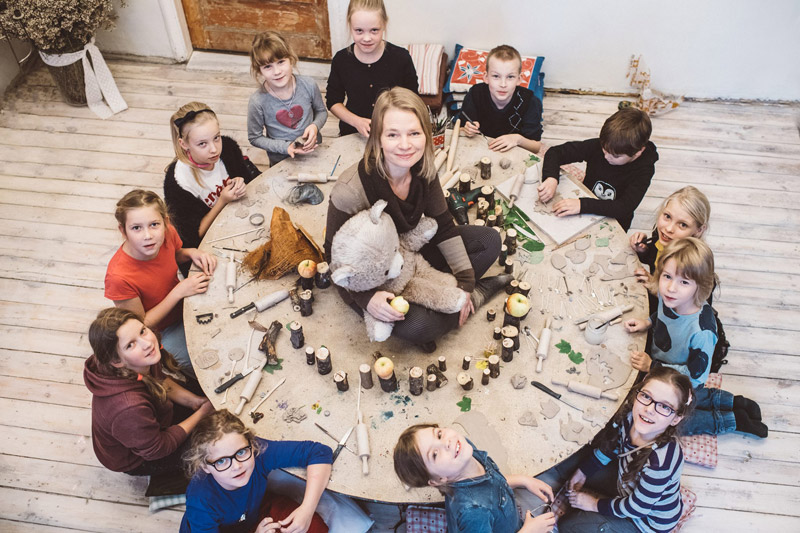 So, what do you like most about living in Kalamaja? And how has life in Kalamaja changed since you first moved here?
When it comes to Kalamaja, I like the community vibe – everyone knows each other and says "hello" and even exchanges a few words more. I've known Kalamaja since back when this district was quite rural – there was much more wasteland back then. You could also feel its painful-beautiful aura, watch the wax and wane of its old wooden houses, smell the genuine scent of oil, listen to the clatter from the surrounding railroads, and hear stories of its wild coast going back in time. It was so easy to imagine the old, rumbling Kalamaja. Even when I read about how things were back in medieval times, the old fishing village of Kalamaja was still there right there in front of my eyes because of its many crumbling buildings, sparking different thoughts and images which would flash through my head.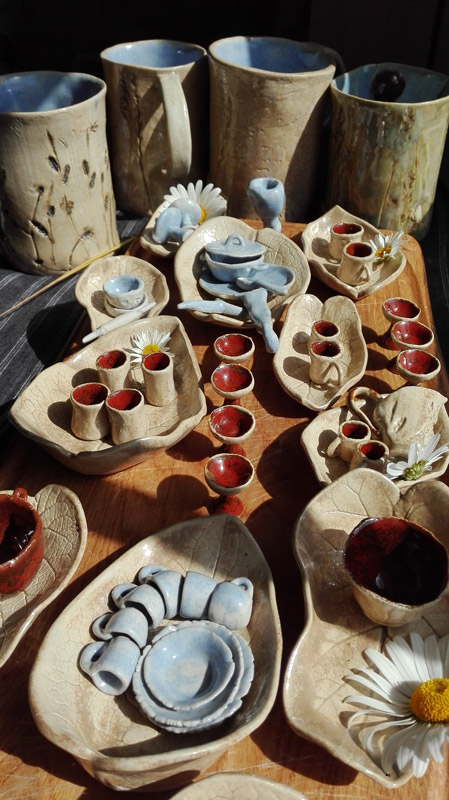 Then suddenly everything changed. The last two years have transformed this place into something completely different. Our green areas are disappearing. And yet soon all our huge industrial buildings will be showing off their rediscovered beauty and providing new opportunities for all of Estonia – just like they did back when they were first built. Cultural opportunities are developing at an insane speed as the population is constantly growing while the neighborhood has even become an attraction for tourists. But this is exactly why I feel like I'm rooted here – I've been right in the middle of all these growing pains. This place holds memories that are dear to me. I watched my son grow up here. I remember how he saw his first trees and the movement of their leaves from his baby carriage in our old, wild park. Those trees are still the same.
What kind of art do you teach Kalamaja's kids? And are you also teaching them to work in clay?
For me, children's art is something more than art. With children, you have to aim higher. You have to find the real thing in life and everything living. And you have to think on the same wavelength as them. Only then can you direct them towards art. Or maybe, I like this particular thought process so much myself, that I can make them like it. Real thoughts, stories, and personal experiences make us feel the same way an artist feels when she is making her art. In my opinion, you can't teach children art, if you don't teach them how to feel this feeling.
You asked me if I teach them how to work with clay. Yes, I do, alongside with other classical art styles. We also develop our own styles. The main purpose is to make everything inside us move.
Beyond burdock and nettle, have you ever thought of adding anything else to Kalamaja's future fossil record? And if so, what – and why?
The children and I made our very own herbarium and it's permanently fixed on our studio's wall. We've included plants from our own Kalamaja gardens. We've also learned about different bog plants and "fossilised" them in clay as well. We've done the same with forest and coastal plants. I've integrated my art teaching process with nature so closely, because it has always been a part of me since I was little. My first and most powerful scents, voices, noises, memories – all come from nature.
I also especially like everything in miniature and so we've worked on a lot of tiny ceramics. At this moment, I'm designing and creating a set of doll dishes to be shown off in Kalamaja homes. This set is not meant to be stored away in a toy box – instead it will add a cosy feeling to every home. The dishes will let you "play home" alongside all your "adult" dishes – and help warm everyone's hearts.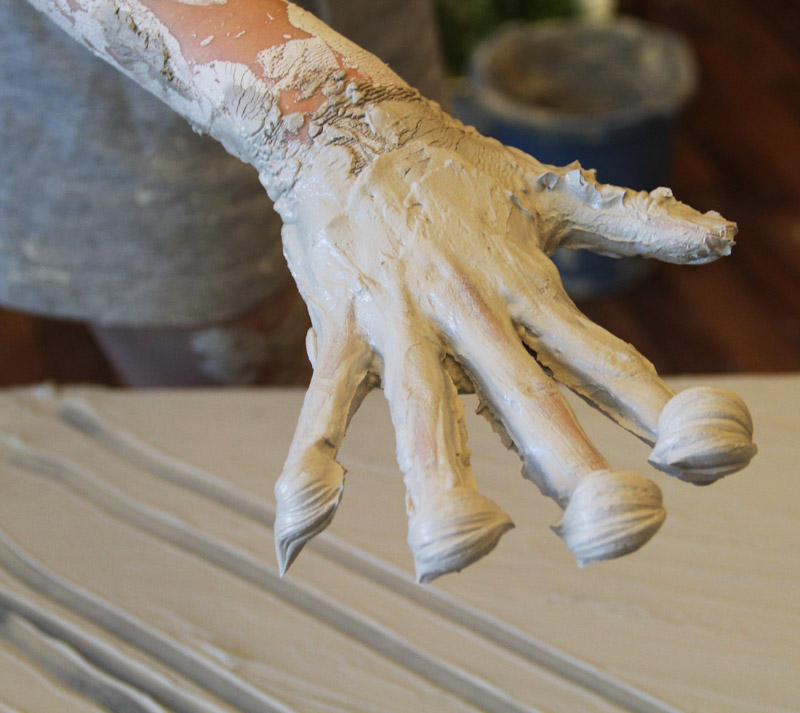 Photos by Agnes Liiv.